Accommodation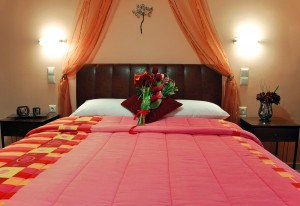 The hotel Anesis Rooms is found in an extremely beautiful, quiet area with a lot of greenery, very close to Pamvotis lake of Ioannina. All the rooms are carefully decorated and furnished taking care of every detail. Also, they include convenient spaces that offer you unforgettable stay.
Our main purpose is to offer you all modern conveniences in order to make you feel like you were at home. All the rooms are equipped with bath, LCD TV with satellite, local and foreign cable programs, free wireless Internet, air condition, hair dryer, steam-iron, fridge and balconies with wonderful view. The rooms are spring cleaned on a daily basis. Furthermore, we have a private parking for your car. There is a playground across the road, for the kids, our small friends.
The hotel is located very close to many conveniences (shopping, malls, cafeterias, restaurants, bars) and of course, it is located very near to the Cave of Perama. We are always at your disposal so to answer your questions and satisfying all of your needs.
We wish you a pleasant stay!