Location
The city of Ioannina is located at the north-western part of mainland Greece. It is the capital of Ioannina Prefecture as well as the capital of Epirus region. It is one of the biggest and most historical cities of Greece, with rich cultural tradition and natural beauties. It is a business and trading center of the wider area as well.
Ioannina is a favourite destination for many tourists as long as they combine the paces and the exhilarating nightlife of a big city with the picturesque authenticity of Greece. The lake Pamvotis gives the unique feeling of calmness and beauty to the city. The lake embellishes Ioannina with its natural beauty that charms every visitor.
Perama is located at the north-western of the lake and is accessible from the National Road Ioannina – Trikala. Its distance from the centre of the city is only 2 km. Here you will find the well known Perama cave. Perama is the most tourist developed area of Ioannina. It is well known as well for the silver handcraft businesses that are located here.
How to get to Perama and Ioannina:
In order to get here, you can use the flights that connect the airport of Ioannina with the biggest Greek cities. Otherwise, you can use the national roads from Egnatia Avenue, Metsovo, Arta, Igoumenitsa, Kozani etc. Moreover, you can reach Perama travelling by bus using the local bus service. There are daily routes that connect Ioannina with the biggest Greek cities.
Airport: 2 km.
Beach: 100 km.
Harbour: 100 km.
Ioannina: 2 km.
Athens: 436 km.
Thessaloniki: 372 km.
Here in Perama, very close to the center of Ioannina, you will find for a fabulous stay the complex of rooms Anesis. We wait you and we promise unforgettable, quiet, convenient and cheap staying.
The Cave of Perama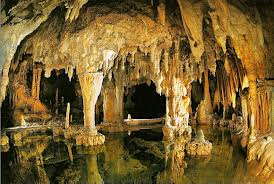 One of most beautiful caves in the world is located only four kilometres from the city of Ioannina, in the village of Perama.The Cave is well known as the Cave of Perama and every year gathers thousands of visitors to see it.